Eric P. Toivonen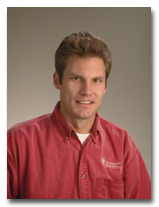 President
Eric Toivonen is president of Genie Repros, Inc., an award-winning graphic communications company in Cleveland Ohio. Genie Repros, established forty years ago, provides local, regional and national organizations with print and graphic communications solutions for corporations of all sizes.
In addition to his management responsibilities, Mr. Toivonen frequently provides counsel on a broad range of graphic communications issues to professionals at many leading companies, design firms and non-profit organizations. Industry executives have asked Mr. Toivonen and his pre-press department to serve as beta-testers for several industry-related soft-ware programs. Clients frequently call upon him to provide a broad array of business solutions and to help address complicated issues in graphic communications manufacturing or e-commerce. Clients greatly appreciate his ability to make technologically advanced solutions accessible and understandable to daily users.
With over twenty-four years of experience in the industry, Mr. Toivonen has been with Genie Repros for over twenty years. He and his former partner, Barry Bishop, formed a partnership over fifteen years ago. Mr. Toivonen's presidency is the culmination of a successfully executed succession plan put in place twelve years ago.
Outside of the office, Mr. Toivonen enjoys spending time with his family, sailing and volunteering for local non-profit organizations.